Model Number
C301-i
Form-factor
dongle
Functions
TOTP configurable
Dimensions
49×26×8 mm
Weight
17 gr
Programmable

1 profile


restricted time sync
Product ID
T2-54
Wordpress
fully compatible
Google Account
fully compatible
Azure On-Prem MFA Server
fully compatible
Azure Cloud MFA / Office 365 AD Premium P1 or P2
fully compatible
Azure Cloud MFA / Office 365 AD Free/Basic
fully compatible
Stripe Dashboard
fully compatible
Meraki Dashboard
fully compatible
ISDecisions UserLock
fully compatible
ESET Secure Authentication
fully compatible
Watchguard AuthPoint
fully compatible

Not listed here

Write us



If the system you are using is not included in the compatibility list, it does not necessarily indicate incompatibility. We encourage you to refer to our integration guides page or get in touch with us for more information.
Please check product and platform compatibility before placing an order
All pictures shown are for illustration purpose only. Actual product may slightly vary due to product enhancement or other reasons.
Token2 C301-i programmable hardware token - pack of 10
10 x Token2 C301-i TOTP hardware tokens
NFC programmable hardware token in a classic keyfob/dongle format than can be programmed using our burner apps available for Android, iPhone, macOS※, Linux※ or Windows※
※ - require additional NFC Writer hardware, different for each platform
---
Specifications:
---
Built-in Button, 6 Character LCD Screen
Security Algorithm: TOTP
OTP Length: 6 digits
OTP Time interval: 30 seconds
Hash algorithm: sha1 (default) or sha256 (set using NFC burner)
Dimensions: 49.8 x 26 x 8.25mm
Water & dust resistance: IP67
Operating Temperature: 0°C .. 50°C
Tamper Evident / Tamper Protection
Battery Type: Lithium Magnesium
Battery Lifetime: 5-6 Years (depending on usage)
Programmable: Yes
Maximal seed length: 63 bytes (126 hex / 101 base32)
Time sync: Yes [restricted: setting time will clear the seed]
---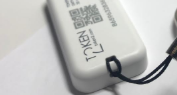 You can attach this token to a keyring with an additional accessory, a rope loop, which is included for free with every token ordered
read more...
In addition to the OTP digits, this model also has a battery level indicator and a visual timer indicator on the left side