Protégez voter compte Facebook avec un token
Si vous voulez activer l'authetification a deux facteurs(A2F) sur votre compte facebook, vous pouvez utiliser la carte miniOTP-1 comme alternative au applications mobile en suivant ce guide. Le Token2 miniOTP-1 est une méthode qui remplace les applications mobiles comme Google Authenticator ou Token2 Mobile TOTP. Le seul prérequis est un Appareil Androïde (v3.x et plus) ayant la technologie NFC, ceci sera seulement nécessaire pour l'activation de l'A2F. Les connexions ultérieures exigeront seulement le token.
Connecter à votre compte Facebook, allez ensuite sous les options du compte.




Allez sous « Sécurité et connexions », cliquez sur « Modifier » et puis cliquez sur l'option « Utilisez l'authentification a deux facteurs ».





Sur la prochaine page, cliquez sur « Commencer » pour commencer l'activation de l'A2F. vous pouvez directement sauter ces étapes en cliquant sur ce lien tout en étant connecter à votre compte Facebook.
Choisissez l'option "Applications D'authentification" et cliquez sur suivant

Pour la prochaine étape, vous aurez besoin de votre token miniOTP-1 et l'app Token2 Burner prête


Installez Token2 Burner et vérifier que votre token marche avec votre appareil NFC.
Vous pouvez vérifier en appuyant sur le bouton « get OTP » sur l'app mobile : appuyer sur le bouton sur votre token miniOTP-1 and collez l'a votre appareil NFC. Ensuite, appuyer sur l'app mobile, appuyer sur « get OTP ». L'OTP (mot de passe à usage unique) devra être pareille sur l'app et sur le token.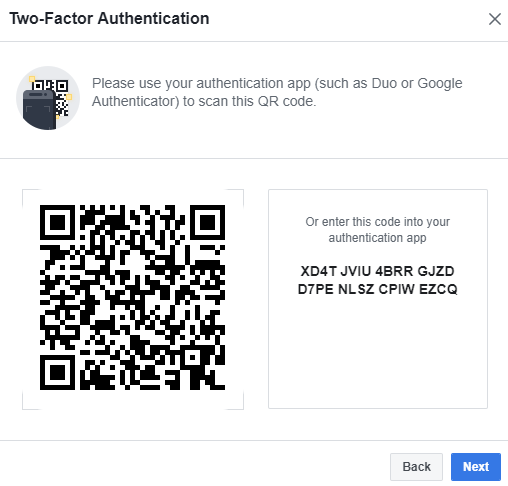 Maintenant, lancez l'app Token2 Burner sur votre appareil NFC. Appuyer sur « Scannez QR » et scannez le code QR afficher sur les options de Facebook. Appuyer sur le bouton du token miniOTP-1 and collez l'a votre appareil NFC, puis appuyer sur « Burn seed ». L'app affichera un petit message « Burn seed process succeded » si cela a fonctionnez.




Appuyer sur Continuer et entrer l'OTP afficher sur votre token,




Une fois que l'OTP est entrer, l'activation de l'A2F est terminée.
---
Nos token remplacent les applications mais peuvent aussi servir de copie de votre app d'authentification.
Subscribe to our mailing list
Want to keep up-to-date with the latest Token2 news, projects and events? Join our mailing list!